citizenM Los Angeles Downtown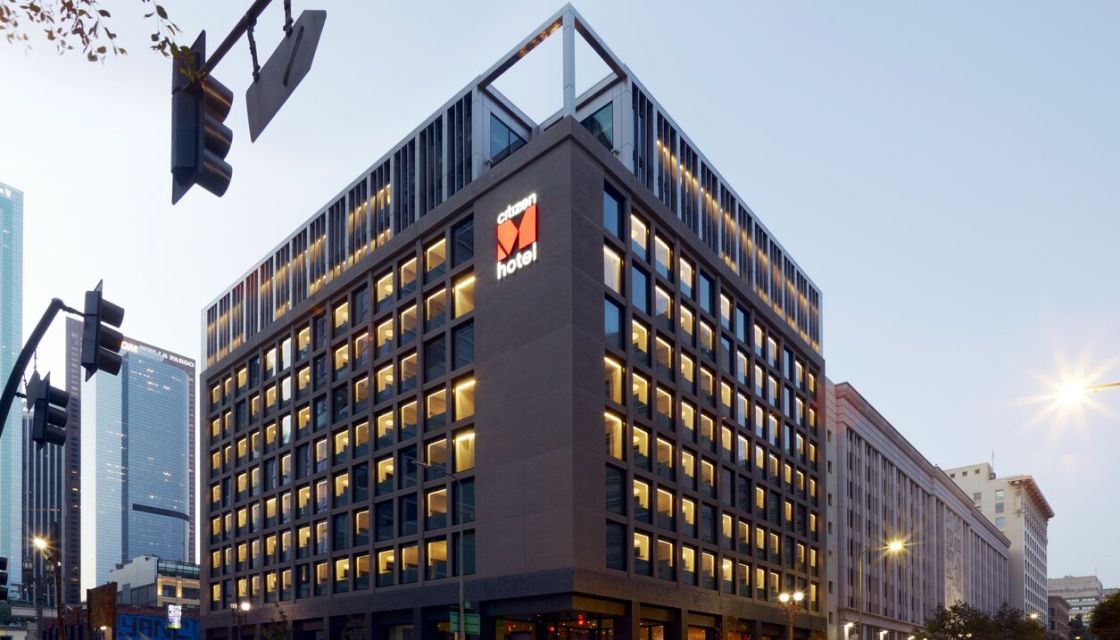 LEED certification in progress
Are you climate-conscious and love making a positive difference? Welcome to your best choice for planet-conscious travel – citizenM Los Angeles Downtown. This hotel is working towards an LEED Gold certification, meaning you can sleep well on fluffy pillows while we do our part to keep the environmental impact super low.
this hotel is… fighting pollution
Cycling and using public transport is a great way to fight pollution. Our Transit Score is 100, meaning it's just a 5-minute walk to two Metro lines. Our Bike Score is 79 (very bikeable!) – we also have on-site bicycle parking for our staff and guests, and access to shower facilities.
this hotel... reduces heat effect
We all know how hot LA can get – so we're doing our bit to keep the heat under control. 100% of our roofing and pavements are covered by high-reflectance materials. Cool? Definitely.
this hotel is... water conscious
Our landscaping water use is lower by 66% compared to a typical building, thanks to a clever irrigation system and low-water-use landscape design. Indoors, a 34% reduction usage reduction happens through special plumbing fixtures in our sinks and showers. And when it rains? We are ready to capture an incredible 8,448 gallons of water, to be stored and used for plant irrigation.
this hotel loves... saving energy
We're keeping an eye on the power we use through a special building monitoring system, which measures its total energy consumption. And through a combination of smart building-envelope design, efficient mechanical systems and electrical systems, our energy reduction is around 27.9% from baseline (ASHRAE).
this hotel... hates waste
Recycling is a big one for us. We're reducing all waste by recycling paper, corrugated cardboard, glass, metals, plastics, and batteries. And it doesn't stop there. Building and improving our hotel creates waste, but we diverted 86% of our construction debris from landfill.
this hotel… keeps things breezy
Ambience is our forte – all our multi-occupant spaces have 100% temperature control to keep you cool as a crispy cucumber all day long. Our air quality management plan makes sure the air you breathe is clean – always. The paint, coatings and indoor building materials comply with low / no VOC limits prescribed by the South Coast Air Quality Management District Rule 1168.
this hotel… has no mercury lamps
We've reduced the amount of mercury brought into the building by only using LED lights – as part of our toxic material source reduction program. That's the lesser-known benefit of LED lights… the other one, of course, is more light with less heat and at a lower electricity cost. What a bright idea!
Sleeping on our fluffy pillows feels even better when you know you're doing something great for planet Earth. And it's not just for conscious travellers – pursuing an LEED Gold certification means we're doing good for our neighbourhood, community and city.