citizenM Seattle South Lake Union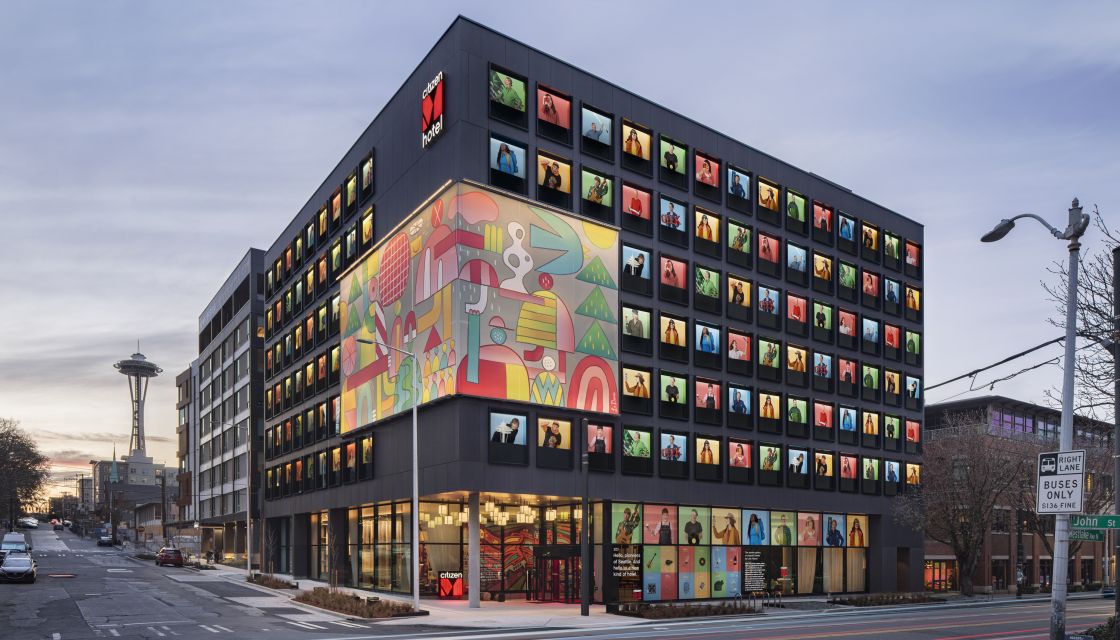 This hotel is certified LEED Gold!
Welcome to citizenM Seattle South Lake Union hotel! We know that building and operating a hotel can have an impact on the planet – so we are on a mission to influence positive change in a world where we are simply guests. You can feel good about sleeping here – this hotel is certified LEED Gold!
this hotel has… ideal location and transportation
By using existing infrastructure (which also preserves natural habitat and resources), this location achieved a Walk Score of 98 – also known as Walker's Paradise. Within less than half a mile, there are over two dozen amenities (and more than 10 residential units per acre). The Transit Score is 95 – World Class Public Transportation. There are a whopping 236 ride opportunities (tram, rail, bus) per day from this location, all just 0.1 mile walking distance from here. Wow!
this hotel is... a sustainable site
Heat islands in urban settings have a negative effect on humans, wildlife habitats and microclimates. To avoid contributing to this problem, we used paving materials with a three-year aged solar reflectance (SR) value of at least 0.28, and planted greenery to create shade over paved areas. Cool!
this hotel is... water efficient
Landscaping is usually responsible for huge water consumption. Not here! We switched to low-water-use landscape design – resulting in 79% lower water use in comparison to a typical building. Instead of landscaping on the outside, we put a lot of cool art on the inside (way more photogenic and doesn't need any water)!
this hotel has… optimised its energy performance
With a combination of great building-envelope design, plus efficient mechanical and electrical systems, we achieved a 24% energy reduction. This is measured against the ASHRAE 2007 baseline, if you like learning more about this sort of thing.
this hotel has… low construction waste
85% of our construction debris didn't end up in landfill – it was recovered, reused or recycled instead. Hooray for modular building!
this hotel is… pretty on the outside, healthy on the inside
Breathe easy! 100% of our hotel spaces (yes, ALL of them) have individual lighting and thermal controls. In addition, all interior paints, coatings, adhesives, sealants, flooring and composite wood products were selected, specified and installed to comply with low / no VOC limits (as prescribed by the South Coast Air Quality Management District Rule 1168).
this hotel's lamps are… mercury-free
That's right. All our lights are LED – with zero mercury content. Zero. Now that's healthy.
We do all these things well, so you can sleep well. This isn't the only citizenM hotel with good news – we work on attaining Green Certifications for all of them. This means we are going above and beyond what is required by law/regulation. It's better for business, the environment, our local communities… and you.