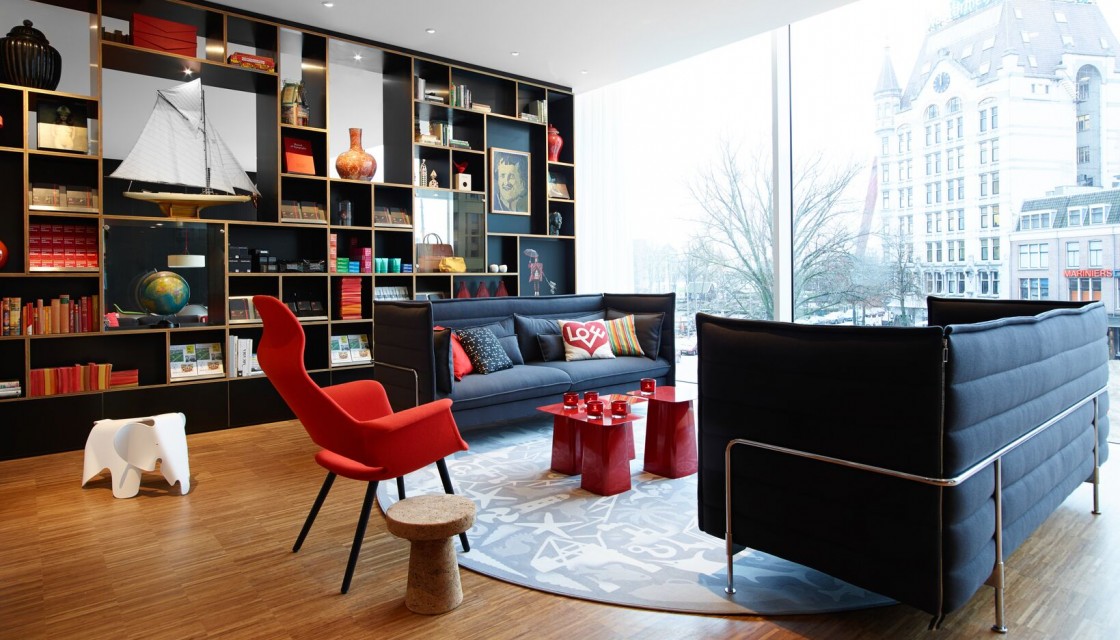 book your stay
train
1 stop to Rotterdam Centraal
tour
2 mins to Cube Houses
taste
4 mins walk to Markthal
small room, big luxury
The citizenM hotel room is the epitome of affordable luxury in central Rotterdam. All rooms are non-smoking and include the following: a XL king size, super comfy bed, ambient lighting, a wall-to-wall window including blackout blinds rain shower for washing away the jetlag, and free superfast unlimited Wi-Fi.


best sleep ever
How do you know if a hotel bed is dangerously comfortable? It's so big, you could easily get lost... and so comfortable, you really have to make an effort to get out of it. It looks amazing too, topped with butter-soft Italian linen and pillows fluffier than those tiny Dutch poffertjes pancakes. This is the bed waiting for you at citizenM. Bring a friend to share it with, but beware – you'll probably want it all to yourself.
wake up, wind down
Because mobile citizens are constantly on the go, unpacking seems pointless. Instead, all rooms have a large drawer under the bed, big enough to store an opened suitcase, saving both time and space. There's also some hanging space too.
get moody, it's ok
You don't have to get out of your lovely, amazing, huge citizenM bed to do anything in the room. Our small but mighty MoodPad needs a mere touch to dim the lights, close the blinds, change the temperature, set an alarm, or start a movie. Ok, so the MoodPad won't polish your shoes or flush the toilet. We're working on it. In the meantime, stay in bed.
twist your mind at the Cube Houses, recover in your XL bed
1
train stop from Rotterdam Centraal
address
citizenM Rotterdam hotel
Gelderseplein 50
3011 WZ Rotterdam
living room
living room
If you were at home, you'd probably drink wine, work and surf the Wi-Fi in your living room, right? Now you can do the same... in ours! Lobbies are so 1980s, we've decided to give the space to you instead. Books, art, cocktails, designer furniture – it's your living room, so enjoy it!
canteenM
canteenM
Home is where the barista is? Definitely – and especially when the barista is also a mixologist who shakes a mean cocktail. We're talking about canteenM, of course – the 24/7 kitchen where fresh continental breakfasts, filling lunches and fast-but-delish dinners are served to all mobile citizens of the world. We're even happy to accommodate midnight snack attacks. Cheers!
join to get at least 10% off
save on room, spend on cocktails (or shopping, or sightseeing...)
societyM meeting rooms
societyM meeting rooms
your meeting, but with Vitra
It's time to put that Rotterdam mentality into practice. Big meetings rooms and big personalities will get on just fine at societyM, but small ideas have room to grow just the same.

We've got all the luxury you need, including really comfy chairs. You can either book a boardroom at societyM, or just bring your laptop and set up at one of the many workstations, it's your call.