Kuala Lumpur Bukit Bintang hotel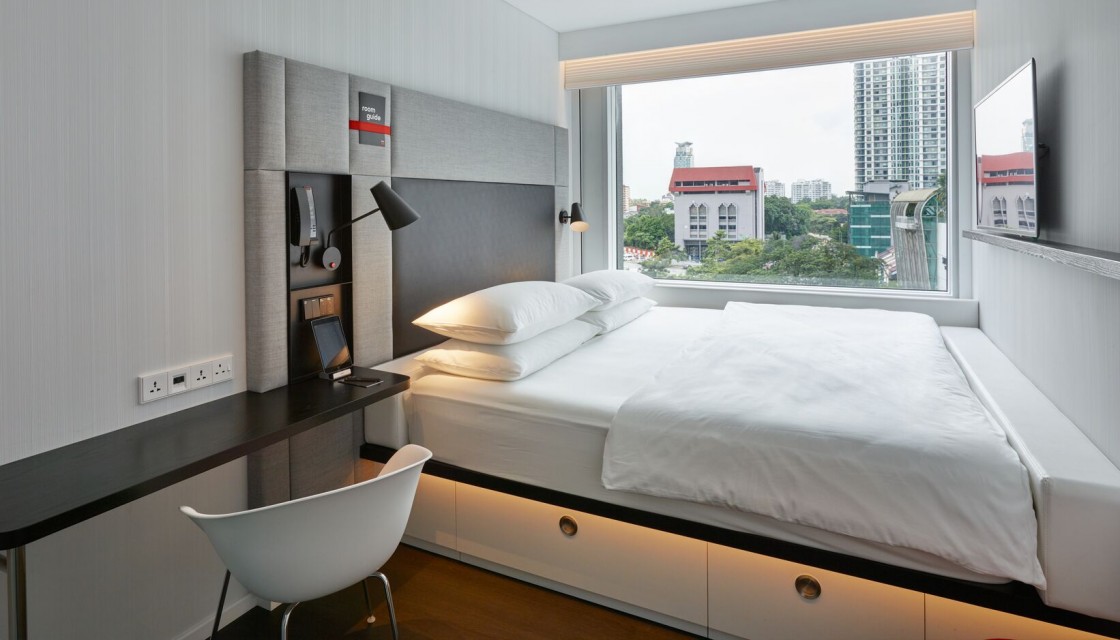 book your stay
sightseeing
30 mins to Petronas Towers
spend
Starhill Gallery is 14 mins away
street food
walk 5 mins to Jalan Alor
style and function got together
Good things come in small packages? Your citizenM room is a living proof of that. We packed a gigantic bed, sleek designer furniture, and a powerful rain shower into 14 sq m, and added enough smart tech to rival the Low Yat Plaza. Jetlagged citizens rejoice – the room is soundproof, so you can sleep easy in the middle of the day, or watch TV in the middle of the night.

XL king-size bed (2x2 metres)
high-speed Wi-Fi
rain shower
full-size shampoo and shower gel
MoodPad room control
blackout blinds
a safe to store your essentials
a (proper) hair dryer
starfish or share?
We're talking about our beds of course. If we're famous for one thing, it's our wall-to-wall, XL, kingsize beds. They are, quite literally, what dreams are made of. If getting a full 8+ hours of sleep and waking up well-rested is your thing, give us a try. Remember: late check-out is available if you find it really hard to say goodbye to all that comfort.
take the tablet (to bed)
Ever dreamed of piloting a plane, or directing rocket traffic at NASA? Then you'll love our MoodPad. Simpler than a cockpit, but just as intelligent, it lets you control the entire room without sticking a toe out of bed HQ. Music, lights, blinds, temperature, alarm... you can even change the colour of your room to practically anything you like (except tartan).


wake up, chill out
Lower your stress with a high-pressure shower. Whether you're getting off a plane, train, or automobile, nothing beats a properly-pressurised shower on arrival. Ours come with free full-size shampoo and shower gel that will leave you refreshed and in a great mood for exploring. And if that doesn't get you in the right state, our adjustable lighting to rival the Lake Symphony Water Fountain sure will!
you can't hear the sizzle of Jalan Alor street food from this map (so come stay with us)
7
minutes away from MRT Bukit Bintang on foot
address
citizenM Kuala Lumpur Bukit Bintang hotel
128 Jalan Pudu, Bukit Bintang
55100 Kuala Lumpur
livingroom
livingroom
sitting never looked better
We get it, being in a city as large as Kuala Lumpur can be a little daunting. That's why we've designed our lobby to feel like your very own living room, complete with designer furniture to lounge on, large TVs to watch, fabulous free Wi-Fi (the fastest around), books galore, and an outstanding contemporary art collection to keep you engaged and inspired.
canteenM
canteenM
We know that exploring KL's famous street food is top of your list, and we honestly don't blame you. But for those moments when convenience is key – on arrival, in the morning or at 4.00 AM when jetlag wakes you up – we're here. canteenM is a self-service affair, open 24/7 and serving delicious, healthy, and locally sourced meals, snacks and drinks. Feel free to eat in, take out, or have a picnic in your room!
sign up to get at least 10% off
we balanced your cheaper room with extra-fluffy pillows
societyM meeting rooms
societyM meeting rooms
Beige walls and uncomfortable seating don't do much for your creativity. Neither do stale cookies and pens that don't work. Well, societyM is here to turn your meetings upside down and make you reconsider everything. Come here for light, open spaces, designer furniture, and ridiculously fast Wi-Fi. Invite the world too: we have more device connections than the KLIA.
one-minute check-in at citizenM hotels
because 'I love queues to reception' said nobody ever