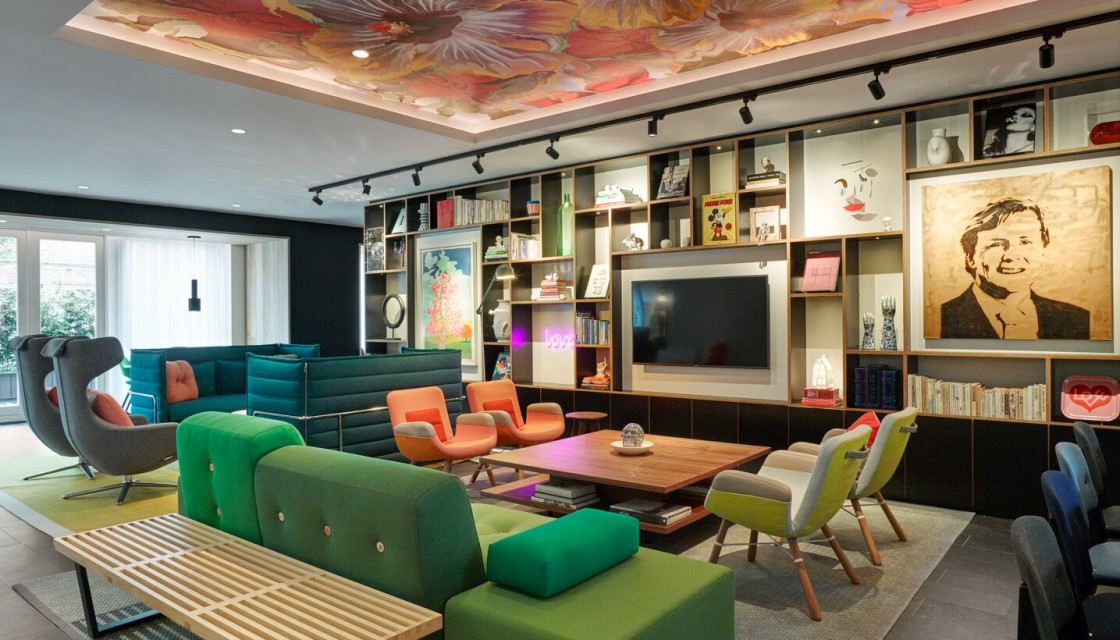 book your stay
art
walk to Rembrandt House
see
12 major attractions nearby
of all the rooms in Amsterdam, you walked into ours
smart-sized fun
Of all the rooms in Amsterdam, you walked into ours. And what a good choice it is! You get absolutely nothing you don't need (towel swan, anyone?) What you do get (and need) is ultra-awesome. A bed so enormous, it feels like a yacht. Shower so powerful, it will chase away a thousand-mile fatigue. Superfast unlimited free Wi-Fi, so you don't have to choose between sharing photos or streaming Netflix. Free movies – because (movie) marathons are great. You won't even have to get out of bed to close the blinds or change the temperature. The MoodPad does it with one touch.
showers for power ballads
We know life feels fresher when you do, so go ahead and lather up. But we recommend adding at least 5 extra minutes to your splash time - it's so rejuvenating, you may find it difficult to get out. Once you do, the world's most luxurious towels are waiting.
MoodPad, meet citizen
Why is your room iPad called a MoodPad? Because it adapts the room to your mood, that's why! Choose movies, relaxing, romance or party, and change the ambiance with one touch. Oh, that's not all. Blinds, curtains, temperature,TV channels, wake-up alarms... yep, all on the MoodPad. The only thing it won't do is cook your breakfast (but that's ok, we cook it downstairs).
time well spent
No other bed measures up to ours. In fact, once you climb on board, you may never want to leave. The perfect mattress, the mega-soft pillows, the duvet that hugs you just right... and then there's the space - XL king-size. Perfect for starfishes sleeping solo, or for sharing.
pump up the lather
Mini toiletries are nice, but for mini humans taking mini showers. We give you - human size citizen - full size bottles of our famous AM and PM shampoo/shower gel. Why is it famous? It's a bestseller at our collectionM gift shop. Oh and the scents were created by none other than Alessandro Gualtieri, the nose everyone knows. Ahhhh.
12 major attractions less than 20 minutes away
1
minute to trams 1, 7, 19 and Weesperplein metro station
address
citizenM Amstel Amsterdam hotel
Sarphatistraat 47
1018 EW Amsterdam
livingroom
livingroom
not a lobby – living room
Lobby, what lobby? You won't find one here. Instead, we have a living room, filled with designer furniture by Vitra, hundreds of books, real art on the walls, and TVs where you control the channels. Feel free to sprawl, read, watch, work... and if you need a cocktail, the bar is right in the middle.
canteenM
canteenM
Some like it hot, some like it cold, all like it 24/7! All mobile citizens, that is. As a traveller, you soon discover how a cappuccino and some snacks at 3.00 AM can really help re-tune your body clock. That's why we don't tell you when to eat - you tell us! canteenM serves food and drinks 24/7. Always with a smile.
at least 10% off your next stay...
that's not a welcome discount – it's always-and-forever discount
societyM meeting rooms
societyM meeting rooms
Can you plan the future in a room designed in 1981? We say no! You can't inspire (or be inspired) in a room with beige walls, fluorescent lights, and lumpy chairs. Our creative meeting spaces have luxury furniture by Vitra, plenty of daylight, art and interesting objects for decor, and all the tech you need to connect to every participant, even if they are on the other side of the globe. Oh, there's also free unlimited coffee, tea, water and stationery. Catering is available on request for AM, PM and all-day food packages (with snacks!). And, of course, enjoy our superfast free Wi-Fi, always. Now, the future is yours.